Lockdown has brought challenges and changes to all parts of our lives, but we know from our own experience, birthday celebrations are particularly hard work. As there were no soft play centres, restaurants or cinemas readily available, it was really hard to find ways to get the birthday child to celebrate with their friends.
As a result, we put together packages to help your child celebrate their special day.
THE FUN BIT

There will be:
• Races
• Fun activities *
• Stickers
• Party bag with five items plus activity toys.

All you have to do is to supply a picnic!

THE PARENTAL BIT AND SAFETY

It is up to the parent to sort out an indoor or outdoor venue (eg a church hall or local park). The party will last for around an hour and a half with 30 minute break for food.

All the planning is based on there being twelve children attending the party.
Every party will be planned. You will receive a copy prior to the event, so you know what is happening, but all the children will see is Fun, Fun and more Fun.

The party will be run by me, but I will require the help of at least two parents. Parties may be adapted depending on any restrictions and we will follow all government guidelines. So, activities and contacts will be strictly socially distanced and organised to be as safe as for all concerned. If restrictions are in place, the helpers will be there to carry a group's backpack with the equipment in for games. (Dividing the children into groups to enable us to cut out the risk of cross contamination.) Everything will be colour co-ordinated so the children have their own equipment to play with and take home. For example, if we are playing diablo, your child will play with the toy, pop it back in their adult's backpack and be given it back at the end of the party to put in their own party bag.

Each child can have access to a face shield and each adult will have a hand sanitiser.
In order to reduce risks we suggest that you have your party in between meal times and give each child a bottle of juice and a cup cake to take home with them after singing Happy Birthday.

These Fun and Games parties are based on twelve children for £150.00. Any additional children can be included at a cost of £6.00 per head.
PARTY BOXES.(Can be used with Zoom)
Our packs contain a beautiful ceramic figure, paints and brush. We add to this; a party bag for each guest, a set of instructions if you wish to host your party online, invites for your guests, name badges and suggestions for online games and activities.
This is just one of the two boxes that you will receive for a party of twelve.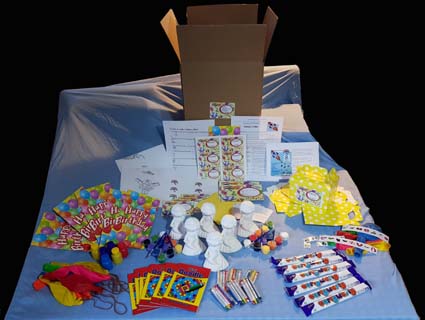 Invitations, name labels for your guests and full instructions on how to host your online party.
Party game and quiz for your guests to enjoy.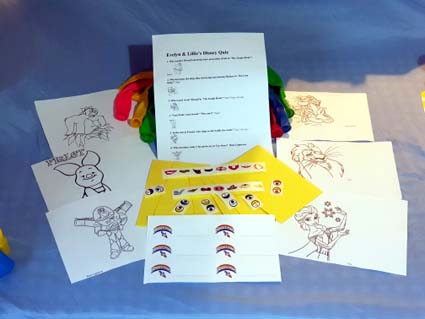 A beautiful porcelain figure, paints and brush for each guest.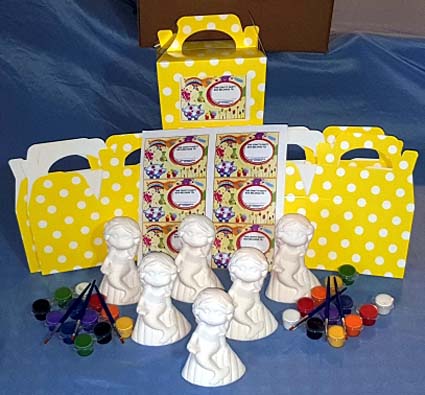 A party bag full of goodies for each guest.
The porcelain figures can be chosen from any of the Larger Porcelain kits, nos 1, 2 and 3.
These Party boxes are based on twelve children for £150.00. Any additional children can be included at a cost of £10.00 per head.
For more details, contact Lindy on 07875588473 or lindy@childsplaycrafts.uk
Click Here to complete and send a booking form.
(Orders for destinations outside the UK will be subject to extra delivery charges).
HOLD YOUR OWN 'BUILD A TED' PARTIES
Bear Hunt Party
Designed especially for little ones this party box comes with the Going on a Bear Hunt book to read, six 8" brown bears, complete with fluff, wish and carry box. Also you get instruments for your little ones to make some noise during the hunt as well as a delightful picture book for each child to take home. On top of this, you get invites for your guests and instructions wrapped up as 'Pass the Parcel'. This box can be delivered to your door for £100. Delivery charges will be added for any address outside of a six mile radius of Wharncliffe Side.
Additional children can be added at a cost of £9.50 per head.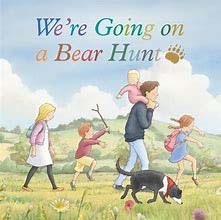 Bear Party Box
This box includes:
16" Bear
Fluff
Carry Box
A book
Party Bag
Invites
Instructions in a 'Pass the Parcel' game.
Bear Box
This box wll contain
6 books
6 Bears with fluff
6 Carry Cases
8" bears are £65.00 per box and £10 per additional child.
16" bears are £100.00 per box and £12 per additional child.
Bear Addition
6 x 8"bear
£50.00 per box and £8.00 per person thereafter.
6 x 16" bears
£70.00 per box and £10.00 per person thereafter.